Jul 10, 2012 $1000 Records, Blue Note, Price Guide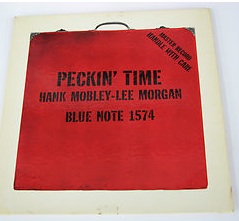 Here's an update on some jazz vinyl auctions we've been watching on eBay:
Hank Mobley and Lee Morgan, Peckin' Time, Blue Note 1574. This was an original West 63rd Street pressing in VG+ condition for both the record and the cover. Interesting, isn't it, that we're no longer surprised when VG+ records sell for more than $1,000. This one fetched a price of $1,009. Interesting to look at the cover of this record, given most of the covers that Blue Note was producing at the time, usually featuring some kind of picture of the artist. Simple graphic of a red suitcase and not sure what that has to do with Peckin' Time or Mobley. There are also no pictures on the back cover. A little bit strange, no? I wonder if there is a story behind the cover?
Here's another one that broke into the $1,000 bin: Freddie Hubbard, Open Sesame, Blue Note 4040. This looked to be an original pressing, although the seller put in the wrong catalog number. It was listed in VG++ condition for the vinyl and Ex for the cover, which I still take to mean around VG+, although it could be better. This one sold for the same price as the other, $1,009.
I seem to be a bit focused on $1,000 Blue Notes today. Here's another:
Lee Morgan, Volume 3, Blue Note 1557. This was an original pressing in VG+ condition for the record and VG++ condition for the cover. It sold for $1,225.
This one did not make the $1,000 bin: Sonny Rollins, Tenor Madness, Prestige 7047. This was an original New York yellow label pressing, in at least VG++ condition, perhaps M-, depending upon how you view the seller's description. This one sold for $657.
Tags: Freddie Hubbard, Hank Mobley, Jazz Collector Price Guide, Lee Morgan, Sonny Rollins