Sep 17, 2012 10-Inch LPs, Blue Note, Norgran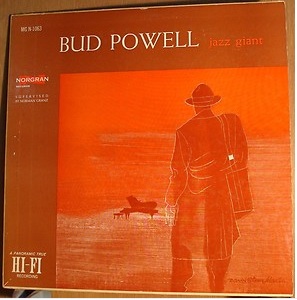 Let's catch up on some of the jazz vinyl auctions we've been watching on eBay:
Bud Powell, Jazz Giant, Norgran  1063. This was an original yellow-label deep-groove pressing with the cover illustration by David Stone Martin. The record was listed in probably VG++ condition for the vinyl and VG+ for the cover, although you have to read the descriptions carefully to reach those conclusions. This one sold for $260.99, which is quite a nice price for a Norgran these days. I have a duplicate of this record, but it's not in quite as nice condition.
Joe Henderson, Mode For Joe, Blue Note 4227. This was an interesting one: It was a factory-sealed pressing. It has all the makings of an original pressing, with the mono cover, the lack of anything remotely Liberty, the right address. But is it an original? Only the buyer will know for sure, presuming he eventually opens the LP to listen to it. This one sold for $215.63. Question to think about: Would it have sold for more money if it had been opened and the seller could guarantee that it was an original pressing?
Jutta Hipp with Zoot Sims, Blue Note 1530. This was the one we mentioned the other day:
The record was in M- condition and the cover was VG. The price was $1,555. As for the other Jutta Hipp record, the 10-inch Blue Note 5056, the bidding is now in the $375 range and there is still more than a day left on the auction.
Tags: Bud Powell, David Stone Martin, Joe Henderson, Jutta Hipp, Zoot Sims