Charles Mingus: Sacre Bleu!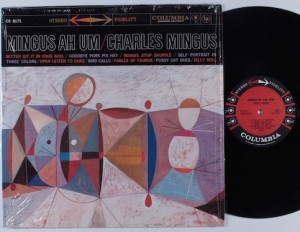 The funkyousounds auction from the Dr. Herb Wong collection seems to have been brought out the Charles Mingus fans. Here's Charles Mingus, Mingus Ah Um, Columbia 8171. This is an original stereo pressing with the six eyes. The record and cover are both in M- condition and there is some shrink wrap, which for some reason seems to be an enticement to some collectors, although I cannot fathom the reason. This one has more than a day left on the auction and the bidding is now over $400. I resisted the urge to put an exclamation point after the $400, but only barely. The old newspaper editor in me, I guess. Here's another one worthy of an exclamation point, from the same auction: Charles Mingus, Blues and Roots, Atlantic 1305. This is also a stereo pressing, but not a first press. It is also in M- condition for the record and the cover, and it also has shrink wrap. This one is in the $300 range! BTW, did I ever mention the time I was writing about Mingus here and I left out the "G" and wrote it as "Charles Minus." I did that and one of our French-speaking readers chastised me with the term "Sacre Bleu!," which is one you don't hear very often these days, but was certainly well deserved in this particular instance, don't you think?
Here's a nice copy of Sonny Clark, Sonny's Crib, Blue Note 1576. I guess this is a second pressing with the West 63rd Street address and not the New York 23 labels. To me, this is still a highly sought-after collectible. This one is M- condition for both the record and the cover. The bidding is in the $600 range with more than a day to go. I guess with the New York 23 labels you might be looking at a $3,000 price tag, or higher.
Anyone interested in a copy of Tina Brooks, True Blue, Blue Note 4141? This is an original pressing. The record looks to be in VG++ condition and the cover is VG+. The bidding is in the $660 range, but it has not yet reached the seller's reserve price.