Closing out 2012 With Jazz Vinyl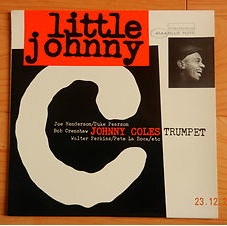 Here's an update on some of the jazz vinyl we've been watching on eBay as 2012 comes to a close, starting with Johnny Coles, Little Johnny C, Blue Note 4144. This was one of Rudolf's listings. It was an original pressing and was interesting because it looked as if one side had deep grooves, which seems kind of odd because it was issued after the deep groove era, wasn't t? This looked like a beauty in M- condition and it sold for $615, so it was not a bad time to be listing this record.
This used to be an item that would regularly sell for more than $1,000 and often more than $2,000, but its value seemed to have been dropping in the past few years: Fred Astaire, The Astaire Story. This is the beautiful bound set that includes the four records, David Stone Martin Prints, photos, booklet and, of course, the original Astaire signature. This one looked to be in beautiful condition and sold for $1,009.
One more that we don't often track here at Jazz Collector:
Oscar Pettiford, My Little Cello, Debut 132. This looks to be an original Danish pressing. The record was in VG++ condition and the cover was VG+.  The price was $153.50.