Condition Counts — Doesn't It?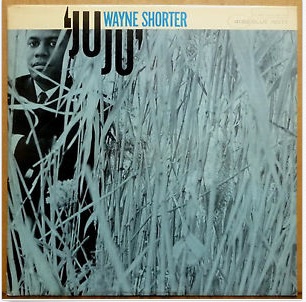 Sorry I haven't posted for a few days. Things have been quite hectic here — my daughter got married on Saturday night. But things are starting to get back to normal, which, for me, means perusing eBay for interesting jazz vinyl to share with all of you here. So, today let's start with Wayne Shorter, JuJu, Blue Note 4182. This looks to be an original New York USA pressing with the ear and the Van Gelder in the dead wax. The vinyl is listed in M- condition and the cover is VG++. Bidding is in the $230 range and the auction closes later today. I'm surprised the bidding isn't a little higher for this record and I'm surprised that the seller either didn't have a reserve price, or that this record already surpassed the reserve. In any case, I would expect the bidding to get quite a bit higher for this record, given what we've seen lately for original Blue Notes of any stripe.
These sellers have some decent collectibles on eBay this week, including:
Mal Waldron, Mal 1, Prestige 7090. This is an original New York yellow label pressing listed in M- condition for the record and not so great condition for the cover, maybe VG- or G+. The bidding is in the $130 range. Might be a nice score for someone who has a nice cover with less-than-nice vinyl.
Here's a VG record with a VG cover that will probably get a very good price for the seller: Tina Brooks, True Blue, Blue Note 4041. This is an original pressing. Bidding is in the $225 range with more than two days to go. Here's a listing that came from CeeDee with a note stating that it was a "hell of a price for something in this condition: Jackie McLean, Jackie's Bag, Blue Note 4051. This one was in VG+ condition for the record and VG for the cover. It sold for $369. Frankly, CeeDee, that's about what I'd expect these days for an original Jackie's Bag in that condition. If anything, I would have thought that the price might even be higher.