Cool Jazz Art, Record Collector Photos, Candy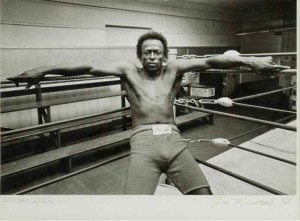 Time to clear out the email inbox.
For those of you interested in jazz art work, photography and ephemera, there is an auction coming up next week of works collected by the former Blue Note president Bruce Lundvall. The collection is being auctioned by Doyle New York, and parts of it can be seen here, including this pretty cool picture of Miles at the right. Cool stuff. Not necessarily my thing, but cool. Now, if he were to sell of his vinyl, that would be another story.
Speaking of artwork, I find this to be cool as well: A photographer by the name of Eilon Paz has spent several years photographing record collectors with their collections and has recently published them in a book titled "Dust and Grooves: Adventures in Record Collecting." You can check out the article here and the Web site here. The photographer is in Brooklyn. Surprised he hasn't found me yet. Perhaps now he will.
CeeDee sends me random notes and listings of records that are typically out of both his price range and mine as well. Here's a recent one:
Lee Morgan, Candy, Blue Note 1590. This was an original pressing listed in VG+ condition for the record and Ex for the cover. It sold for $1,400.55. Not sure why this one was particularly more or less painful than all of the other VG+ Blue Notes that are selling for more than $1,000 these days. CeeDee?