Diggin' a Pony and More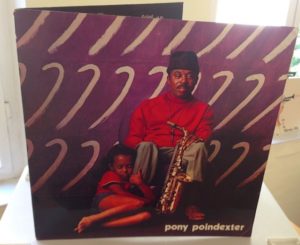 Here's another collectible jazz record that is new to me: Pony Poindexter, En Barcelona, Spiral LP 11. This looks to be an original pressing listed in M- condition for the record and VG++ for the cover. The final price was $495 and there were four bidders. The seller lists it as a European "holy grail," an expression I have come to hate after all these years on eBay. I did a quick search and found some information on the record: Recorded in Spain in 1972, only issued originally in Spain. The music seems to be available on disc and on download. Is it worth a listen?
I was also watching a few Lee Morgan records, starting with: Lee Morgan, Indeed, Blue Note 1538. This was a pressing that had one side Lexington Avenue and one side West 63rd. It looked to be in nice shape, but the seller wanted $1,400. There were no buyers at that price, no surprise to me considering that it is clearly not an original pressing. So the buyer didn't get any offers at $1,400 and now has a listed at $2,000. Go figure.
This one was in far worse condition:
Lee Morgan, Indeed, Blue Note 1538. This was in VG condition for the record and the cover, according to the seller, who nonetheless put a price tag of $1,500 on the record. No surprise, there were no bids. The seller has changed strategy: The record is listed now and the price is $11.50 — but there is also a reserve price, so who knows whether it will sell this time.  Then there was Lee Morgan, Candy, Blue Note 1590. This one was listed in VG- condition for both the record and the cover. The final price was $264, which is reasonable, I guess.