eBaying For Blue Notes and Prestiges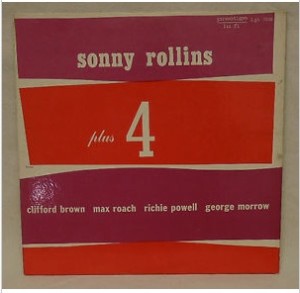 Here's some of the jazz vinyl we're watching on eBay now, starting with Sonny Rollins Plus Four, Prestige 7038. This looks like an original pressing to me with the first cover illustration, which means it is probably the original frame cover. The seller admits he doesn't know much about jazz records, but he has this listed in VG++ condition for the vinyl and Ex for the cover and it's certainly a fine-looking record. The start price is $250 and so far there are no bidders. Am I missing something, or will the bidding just come in late?
Among all kinds of weird stuff, this seller has mixed in a couple of 10-inch jazz gems, including Miles Davis, Young Man with a Horn, Blue Note 5013. This looks to be an original 10-inch pressing. In one place the seller lists it as VG+, and in another he has the vinyl as M-. Quite a difference. The start price for this is about $500 and there is one bid.  From the same seller is Miles Davis Volume 2, Blue Note 5022. This one has a similar issue, listed as VG+ in one place and VG++ in another.  This one has a start price of around $400 and there is one bid.
This one also closes today: Tommy Flanagan, The Cats, New Jazz 8217. This looks to be an original pressing in pristine M- condition for both the record and the cover. The bidding is in the $300 range, but it has not yet reached the seller's reserve price.