eBaying: Jazz Vinyl That Sold, Others That Didn't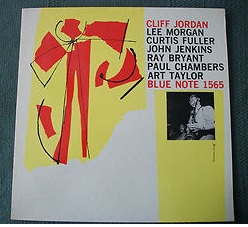 Let's catch up on some more jazz vinyl auctions we are/were watching, starting with: Cliff Jordan, Blue Note 1565. This was an original pressing listed in M- condition for both the record and the cover. It looked like quite a beauty and, in fact, may still be available. This one received a top bid of $1,525, yet is failed to meet the seller's reserve price. I know the market is the market and sellers have every right to hold out for top value, but I still find it hard to fathom wanting to pay more than $1,500 for a single record and still being unable to purchase it.
Here's a fine looking Blue Note for you: J. R. Monterose, Blue Note 1536. This is an original Lexington Avenue pressing that looks to be in M- condition for both the record and the cover. The auction closes in three days and the bidding is in the $565 range. Can't imagine this will sell for less than $1,000, so the question is how much more than $1,000 will it fetch.
This one isn't regarded as a collectible anymore (clearly), but I kept an eye on it wondering if anyone would even want it at all:
Count Basie, Basie Jazz, Clef 633. This was an original pressing. The record looked to be in VG+ condition and the cover perhaps VG++. When I started collecting, anything on the Clef or Norgran label  had collectible cachet, and a record like this, with an awesome cover, would certainly have been in demand. This week on eBay, nobody would even pay six bucks for an original pressing. Something sad about that. I also had my eye on this record because, with just a few hours left in the auction, there weren't any bids at all: The Artistry of Tal Farlow, Norgran 1014. This too was an original pressing from the same era as the Basie, it has a similar cover (also great), and it is a terrific album. This one was listed in VG+ condition for the record and probably VG for the cover with seam splits. Eventually there were three bids for this record and it sold for $49.50. At least someone wanted it.