Apr 20, 2011 $1000 Records, Blue Note, Prestige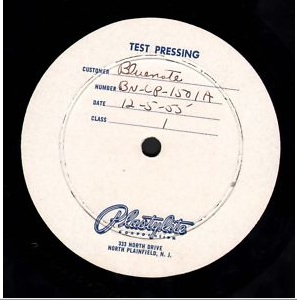 Here's an interesting one: Miles Davis Volume 1, Blue Note 1501. This was a test pressing, no cover. What's makes it cool, in my view, is the original Plastylite logo and the date, which looks to be  12-5-55. Seems pretty original, no? This one was listed in excellent plus condition and sold for $1,025. In the past I've owned several test pressings and, while they're nice to have, I've always missed having the covers. This, I think, would have been an exception, but not at that price. Speaking of prices, that copy of Jackie McLean, Swing, Swang, Swingin', Blue Note 4024, sold for $495 the other day and, no, I was not the winning bidder. As Mrs. JC and I are starting to explore downsizing once again and moving to Manhattan, I am much more of a mind to be selling rather than buying these days.
This one got a high price, all things considered: Eric Dolphy at the Five Spot, New Jazz 8260. If you click on the link you'll see what I mean: The record and cover were both listed as VG+, but there seems to be a pretty nice amount of ringwear on the cover, so I guess I'd be a bit skeptical. The winning bidder apparently was not. It sold for $535.
Here are a couple of Roy Haynes LPs that did quite well for the seller, and, presumably for the buyer as well: Roy Haynes, Just Us, NewJazz 8245. This was an original purple label pressing and it was listed as M-/VG++ for the record and VG+ for the cover. It sold for $235.49.  Roy Haynes, Cymbalism, New Jazz 8287. This was also an original pressing. It was listed as M- for the vinyl and VG+ for the cover. It sold for $214,49.
Tags: Eric Dolphy, Miles Davis, New Jazz Records, Roy Haynes