Feeling Groovy?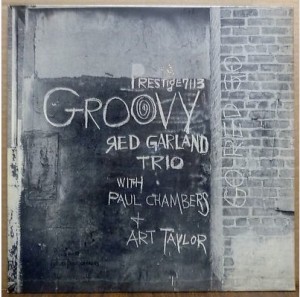 Now that we're back home catching up, here's an update on some jazz vinyl we were watching on eBay, starting with: Red Garland, Groovy, Prestige 7113. This was an original New York yellow label pressing. The record and the cover were in M- condition. It sold for $516, quite a large number for a Red Garland Trio record. Does anyone out there have knowledge and/or a theory why this one would be so highly prized by collectors. The seller was Atomic Records, so I could have visited the store and waved goodbye to this one last week.
The Amazing Bud Powell Volume 2, Blue Note 5041. This was an original 10-inch pressing. The vinyl as probably VG, based on the seller's description, and the cover was VG+. Great cover. It sold for $317.
Cliff Jordan, Blue Note 1565. This was an original pressing in VG++ condition for the record and VG+ for the cover. It sold for $799.99. I mentioned that I was perhaps interested in bidding for this, and I do believe $800 is a fair price. But paying top dollar is not how I've ever chosen to build my collection, and no sense starting now.
Kenny Burrell, Blue Note 1543. This is an original Lexington Avenue pressing, the last of the Lexingtons, and it has the Andy Warhol cover. The record was in VG++ condition and the cover was probably VG++ as well. It sold for $1,350.