Jan 4, 2010 $1000 Records, Blue Note, Jazz Vinyl, Jazz Vinyl on eBay, Prestige, Price Guide, Promo Copies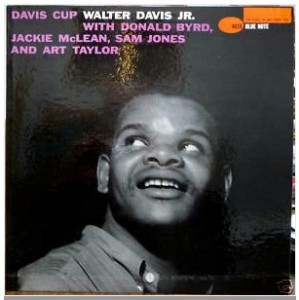 Time again to update the $1,000 bin.
Walter Davis, Davis Cup, Blue Note 4018. This was an original West 63rd Street pressing and was sold by a reputable dealer. The record was listed in M- condition and was described as "uplayed." The cover was probably VG+, based on the description. The price was $2,000. Our previous high price for this record in the Jazz Collector Price Guide was $1,248.
This one has made many appearances in the $1,000 bin: Tommy Flanagan Overseas, Prestige 7134. This was an original pressing with a promo stamp. The record and cover looked to be in M- condition. The price was $2,175.
Lee Morgan, Indeed, Blue Note 1538. This looked like an original Lexington Avenue pressing with the deep grooves, although the seller's description was quite lacking, making it
a bit of a risky proposition. He described the condition of the record as good and the cover as good, but he also stated that the record and cover seemed clean, and the pictures looked quite nice. He said he was not a dealer, which is always a risk, and he had not played the record, which is another risk. Nonetheless, the record sold for $1,048.
Tags: Lee Morgan, Tommy Flanagan, Walter Davis