For the Price Guide: Mingus, Bags, Rare Savoy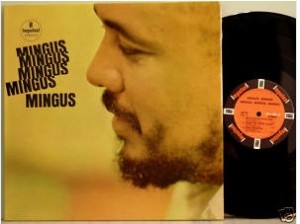 Here are some new records for the Jazz Collector Price Guide:
When did this one become a collectible that would fetch a price tag of nearly $200: Charles Mingus, Mingus, Mingus, Mingus, Impulse 54. This was an orange label stereo pressing in M- condition. It sold for $178.05. Quite a nice price for this LP, right? I have a stereo copy in my collection also in M- condition, beautiful. If anyone wants it for $175, just send me a note and I will sell it to you.
I almost bid on this one and now kind of regret that I didn't: Milt Jackson and the Thelonious Monk Quintet, Blue Note 1509. This one was an original Lexington Avenue pressing and it looked to be in VG+ condition for both the record and the cover, although the seller could have been a bit more forthcoming with the grading. It sold for a little more than $100, and
I would have liked it since this is one of the few gaps in my collection of 12-inch Lexington Avenue Blue Notes.
This is a record I have not seen very often: Bill Hardman Quintet, Saying Something, Savoy 12170. This is a pretty late Savoy release but it seems to have the deep red label, based on the picture. This one was in M- condition and sold for about $174.