Price Guide Update: Wallington, Drew, DeFranco, Tal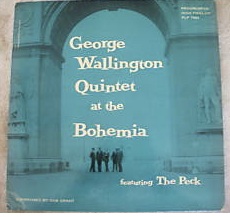 We've missed a couple of days posting. Sorry. Up in the country. The weather is beautiful and the Internet connection is inconsistent. We will attempt to be more regular. To get back into posting shape, this morning we will list some of the new items we'll be entering into the Jazz Collector Price Guide. Nothing in the $1,000 bin — we'll save those for later — but some nice, interesting collectibles. Here are several:
George Wallington Quintet at the Bohemia, Progressive 1001. This is an original pressing and the seller listed it as near-mint condition for both the record and the cover. It sold for $810.
Kenny Drew, Undercurrent, Blue Note 4059. This was an original pressing, also in near-mint condition and was one of the items sold by the seller herschel78. This one also sold for $810.
Here's a record I actually bid on (and lost, by $1):
Buddy DeFranco, Cookin' The Blues, Verve 8221. This was an original trumpeter pressing and the vinyl was in M- condition, the cover VG+. I have a few copies of this record, but none that I am happy with. The one in my collection is an original, but not in great listening condition. I have one here in the country that sounds great, but it's a Japanese pressing. I also have an MGM copy that sounds fine, but is not an original. So, I figured I'd take a shot at this one. I bid $40.40 and it sold for $41.40. It'll be back. It happens to be a favorite record of mine and it has some personal meaning as well: My father had a copy and it was also the first record on which I heard Tal Farlow, who became both my favorite guitarist and a teacher/mentor to my good friend Dan. By the way, Tal and Dan showed up at my sister's wedding 30 years ago and did a session, spontaneously. It was quite incredible. I'll save the story for another day, or for Dan to tell it.