Four Classics From the Golden Age of Jazz Vinyl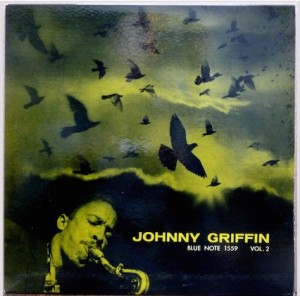 Now that I am back with a working computer, and fully recovered from the shock of the latest surge in prices for jazz vinyl, I can get back to the business of watching rare records on eBay, starting with Johnny Griffin, A Blowing Session, Blue Note 1559. This looks to be an original pressing with the New York 23 labels on both sides. The record is in M- condition and the cover is listed as Ex. There's about a day and a half left in the bidding, and the price has already reached $1,225. However, it has not yet reached the seller's reserve, so there's a possibility this one may not even sell, despite what some might consider to be a pretty high price tag.
The Jazz Record Center  has an auction closing in two days, including John Coltrane, Blue Train, Blue Note 1577. This is what Fred calls a "P" pressing, although I'm not sure what the "P" actually stands for. It is the one with the deep grooves, ear, RVG stamp and West 63rd Street address, but no New York 23 on one side. I've always assumed this is a second press? Anyway,
the start price for this record is $500 and there is a bidder so the record will be sold. From the same auction is John Coltrane Plays the Blues, Atlantic 1382. This is an original mono pressing with the red and purple labels. Frankly, I'm not sure how to distinguish between the various Atlantic pressings to determine what is, or isn't an original, but I always trust Fred because there is no one more knowledgable. This record is in M- condition for both the record and the cover. The start price is $100 and there is also a bidder, so this one will sell as well.
Here is another Blue Note from my want list that will likely remain on my want list until I find a less expensive copy, which may be forever the way prices are going up: Cliff Jordan and John Gilmore, Blowing in From Chicago, Blue Note 1549. This looks to be an original pressing with the New York 23 labels. The record is listed in VG++ condition and the cover is VG+. There are more than two days left in the auction and the bidding is in the $275. I certainly would not be surprised if this one were to approach or enter the $1,000 bin.