Four Classics From the Jazz Collector Era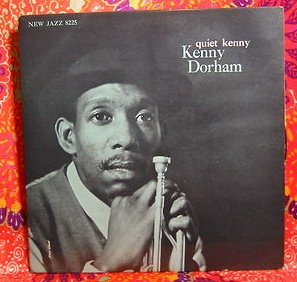 Back in the business of watching eBay — not much of a business, is it? — and here are some items on the watch list, starting with Kenny Dorham, Quiet Kenny, New Jazz 8225. This looks to be an original pressing with the purple labels and deep grooves. The record is described as VG++. The seller loses a little credibility when he describes the cover as "VG+  to maybe VG++" when it is clearly VG+ at best. There's a bit more than a day left in the bidding and the price is only in the $560 range. I say "only" because this record will likely get bids over $1,000 if, indeed, the bidders believe the condition is really VG++. In any case, the price will have to get higher, as it has yet to reach the seller's reserve.
Here's a nice one from Atomic Records with a $1,000 starting price: Hank Mobley With Donald Byrd and Lee Morgan, Blue Note 1540. This is an original Lexington Avenue flat-edge pressing with the frame cover. It is quite a beauty, in M- or VG++ condition for the record and M- for the cover.
Here are a couple of nice 10-inch Blue Notes priced somewhat optimistically, at least from the sellers' perspectives:
Thelonious Monk, Genius of Modern Music Volume 2, Blue Note 5009. This is an original pressing in VG+ condition for both the record and the cover.  You may recall I purchased a VG++ copy of this record a couple of months ago for $90 (24 Hours on eBay, Redux). This seller has a start price of $415.05. I guess, if you look at it carelessly, with such a precise bid you would assume that there are already bids. Clever.
Horace Silver Quintet, Blue Note 5058. This looks to be an original pressing in EX- condition, which is, what, VG? The start price on this is $300 and so far there are no bidders.