Four Listings: Two That Are New To Us, One On Our Want List and One That Doesn't Make a Lot of Sense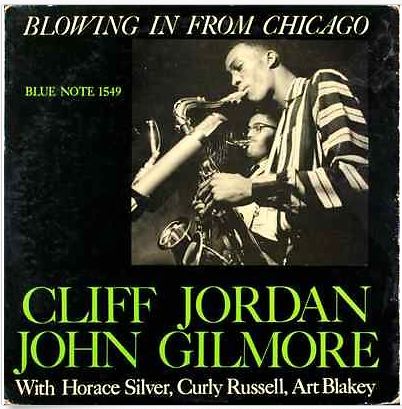 We've got some interesting jazz vinyl in the Jazz Collector watch list on eBay, including a couple we've never seen before. Let's start with one we've seen many times, but still don't own: Cliff Jordan and John Gilmore, Blowing in From Chicago, Blue Note 1549. This is an interesting listing because the seller was able to post really clear pictures of the record and the label. It also raises an interesting question for the Blue Note diehards out there: One side of this record has the New York 23 address, the other just has West 63rd. Is it an original pressing. In my book it would be, but I didn't write the book on Blue Notes. In any case, this one is listed in VG+ or VG++ condition for the vinyl and VG for the cover and the price is in the $225 range. The auction closes later today and the bidding has not yet reached the seller's reserve.
Now for the two that are new to us:
Annie Ross, Annie by Candlelight, Nixa 504. This looks to be an original Canadian 10-inch pressing. Not only have I never seen this record, I've never heard of the Nixa label. Anyone want to help us out with some info? This record is listed in excellent condition and the cover is described as very good. The start price is about $220 and so far there are no bidders.
This is a French pressing we've never seen: Rene Thomas, Meeting Mister Thomas, Barclay 84091. This looks to be an original pressing from 1963. The record is listed in Ex minus condition and the cover looks to be excellent. The bidding is in the $130 range but it has not yet reached the seller's reserve price.
Here's a listing lacking in either knowledge or integrity: Hank Mobley, No Room For Squares, Blue Note 4149. This is listed as a "Blue Note Jazz LP Original Pressing," while the listing clearly shows that this is a mere Liberty pressing. The seller has a start price of about $150 and so far there are no bids. We assume it will stay that way, but you never know. Look at the bidding on that Hank Mobley Blue Note 1568 reissue that got out of hand before the seller graciously decided to pull the listing. Not sure if he did that because he was expecting problems, or because he realized something wacky was going on. But, the listing did clearly state it was a reissue, so he didn't need to do that. Or did he?