Free Jazz Cracking the $2,000 Bin on eBay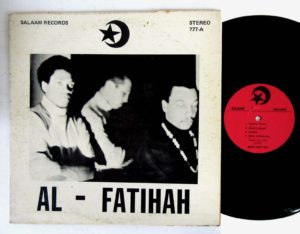 There was a time not all that long ago when obscure records with relatively abrasive – or at least not for the feint of heart – musical content didn't break the bank or require a second mortgage on one's house. This was even the case for the first several years of online record buying, when private-press free jazz LPs were, though rare, not a matter of renegotiating one's financial well-being to obtain. Well, that period has been officially over for a while now, but nevertheless the hits keep coming and new price points are reached. Take, for example, the lone LP by the Black Unity Trio, Al-Fatihah, on their own Salaam imprint. It's a scarce and in demand post-Ayler document out of Cleveland, Ohio featuring an early appearance of cellist/bassist Abdul Wadud, along with saxophonist Yusuf Mumin (of the Norman Howard group) and drummer Haasan Al-Hut. Most copies I've run across look like they'd been run over by a skateboard and tossed into a puddle. This one was better, with a grade of VG++ for the vinyl and probably a strong VG for the matte white cover. Nevertheless, $2,355 is nearly double the next highest price in the internet marketplace and there was a time several years ago when $400-$500 was a healthy number for this album. Not anymore!
Another non-deal is this LP from Japan, which I'm quite fond of but $999.99 seems a bit on the high side. Seikatsu Kojyo Iinkai was begun by pianist-reedist Yoriyuki Harada and saxophonist Kazutoki "Kappo" Umezu, and as a group ranged from trio to orchestra over the ensuing years. Their privately-pressed first LPwas recorded in 1975 during the height of the loft jazz years and also features three American players: bassist William Parker, trumpeter Ahmed Abdullah, and drummer Rashid Sinan. The copy on offer here, sans obi, is autographed by Umezu and appears to be in nice condition for the record (M-) and the jacket is a solid, spotty VG+ or VG++. Apparently Abdullah had a couple boxes of dead stock several years ago and they were accidentally thrown out in a move. Oh well!
I'm not sure if it came up somewhere in the comments on the recent Esquire post, but the question of alternate European edition Blue Note sleeves is an interesting one. I'd never seen anything from the classic era but did know that Blue Note licensed at least a few titles from Vogue (Fats Sadi, among others). Apparently this went the other way as well, judging by a Vogue UK 10″ pressing of the Elmo Hope Quintet, which I'd never encountered and which vinyl-house-uk, the seller of some fine Esquires and other titles recently, is offering. So far it's not getting stratospheric (and presumably won't) but my curiosity has been piqued. With a VG++ sleeve and NM- record and a price at $22.50 someone might get a deal after the auction is up next week.
Finally, in trawling eBay for semi-odd releases, I came upon this one, which not coincidentally is one of my favorite jazz records of all time: trumpeter Alan Shorter's Parabolic LP, recorded in 1968 and released on Verve/Polydor UK under this title and in the US as Orgasm. Presumably the English record buying public weren't ready for the latter concept (not that Americans were either, though Frank Zappa might've prepared some). The record features Shorter's knotty originals played by saxophonist Gato Barbieri, bassists Charlie Haden or Reggie Johnson, and either Muhammad or Rashied Ali on drums. This M- copy is holding at $44 with half a day to go, and presumably will nudge closer to $75 or so by the auction's end.
At any rate, thanks for reading this far, and as always happy collecting and happier listening!