From Our Readers: Blue Note and Cosmic Trane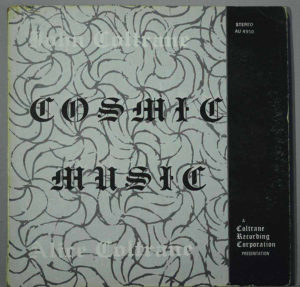 Here are a few more listings sent to me by readers, starting with Walter Davis Jr., Davis Cup, Blue Note 4018. This was an original West 63rd Street pressing from our friends at Euclid Records. The record and cover were both listed in VG++ condition and the final price was $1,254.54. From the same seller was: Johnny Griffin, Volume 2, Blue Note 1559. This was also an original West 63rd Street pressing. The record was VG+ and the cover was only VG, yet it still sold for $1,166, which echoes the point I made the other day about condition being less relevant, as collectors seem to have evolved from wanting to listen to the record to wanting to own the record.
Another reader sent me a question about this record:
John Coltrane, Cosmic Music, Coltrane Records AU4050. The listing states that this is: "The first pressing unmixed version personally approved by Coltrane and significantly different from all subsequent pressings." I must admit that this record comes at a time in Coltrane's life and career where his music had gone past my ability to comprehend and/or enjoy it, so I know very little about this record. I am hoping that some of our readers — Clifford? — can offer some enlightenment. As for this particular copy of the record, it is in VG+ condition for the record and VG for the cover. The start price is $525 and so far there are no bids.