From The Jazz Collector Newsroom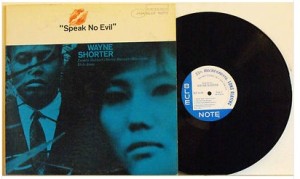 Here are some news items that have come into my mailbox that may be of interest to loyal readers of Jazz Collector.
You know those cool, inexpensive record shelves produced by Ikea, the Expedit line? Well, if you want any, you better stock up now. They are discontinued, which apparently has caused something of a brouhaha among record collectors. A spokesman for the company says there is a new line in place to replace Expedit, called Kallax. For its part, Ikea is stating that it is updating and improving the Expedit line, but record collectors don't seem appeased, judging by the outcry. I took a look at the Kallax line, here, and, frankly, I don't see what the fuss is about. I own one large Expedit unit and if I had to replace it with a Kallax I think I would survive.
There's a lot of Blue Note activity going on. The company is launching what it calls a 75th Anniversary Vinyl Initiative by which it is
reissuing newly mastered vinyl editions of classic records (and others, apparently) from its catalogue. The first five issues come out March 25 and consist of John Coltrane, Blue Train; Art Blakey, Free For All; Wayne Shorter, Speak No Evil; Eric Dolphy, Out To Lunch, and Larry Young Unity. The plan is to release five titles every month, perhaps for as long as they have records in the catalogue. It'll be interesting to see how these records sound and how they compare to the originals. We'll see if we can somehow get copies to review and let you know what we discover. Otherwise, I'm sure there will be those among you who will venture voluntarily down the reissue path.
Also on March 25, the GRAMMY Museum in Los Angeles will launch a new exhibit called Blue Note Records: The Finest in  Jazz. It actually sounds pretty cool, with a baby grand piano that belonged to Thelonious Monk, photos, original concert posters, etc., and, I'm sure, more than a sprinkling of classic album covers. Hopefully one of our readers in L.A. will give us a report. If not, I'm hoping to make it out to the West Coast this summer and I will certainly put this on my agenda.