Getting "Hipp" To Some Nice Jazz Vinyl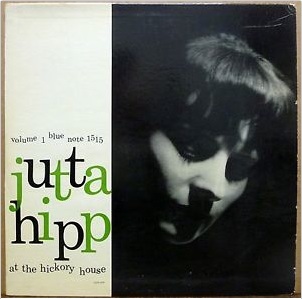 Okay, back to the business of watching rare jazz vinyl on eBay. I've been less diligent about watching (and posting) because 1: I've been spending a lot of time listening to the records from the collection I just purchased in Baltimore and 2: Having purchased this major collection and melding it with my collection, the last thing I am looking to do now is purchase any more jazz records. But I realize I have an obligation to our loyal readers here at Jazz Collector, so back to eBay it is. Lots of great items on the board right now, including:
Jutta Hipp at the Hickory House, Volume 1, Blue Note 1515. This is an original Lexington Avenue pressing listed in VG++ condition for the record and VG+ for the cover. It is currently in the $450 range with more than two days left on the auction. The same seller is selling Jutta Hipp at the Hickory House Volume 2, Blue Note 1516. This is a not-quite-original. It looks like the original vinyl, in VG++ condition, with a later cover, which looks to be in nice condition, but without a listed grade. Bidding on this one is already more than $200. One more from the same seller:
John Coltrane, Blue Train, Blue Note 1577. This looks to be a quasi-original pressing. It has the West 63rd addresses on both labels, but I think the hard-core collectors view the original pressing as having one side with the New York 23 address. This one is in VG+ condition for both the record and the cover. The price is in the $475 range with more than four days to go.
Here's another seller with some nice items on eBay now, including: Thad Jones, After Hours, Prestige 7118. The record isVG+ or VG++ condition, just visually graded. Sellers do much better, I think, when they actually listen to the records and offer a play grade. The cover on this is listed in VG+ condition. Starting price is $300 and so far there are no bidders with less than one day left in the auction.