Give Me Liberty . . . For a Lot of Money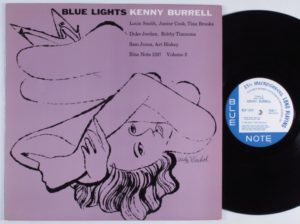 Here's a few items from the Jazz Collector in box, starting with a note from our friend CeeDee, who is commenting that "it looks like the cost of some Liberty pressing Blue Notes are approaching the price of the originals," with a bunch of links, including Kenny Burrell, Blue Lights, Blue Note 1597. Not only is this a Liberty pressing, the cover, with the Andy Warhol illustration, is only on VG condition. This one sold for $255, which is quite a change in the market over the past few years. The other big change in the market is the tremendous spike in prices of the United Artists Blue Notes, which were 1980s reissues for the Japanese market. Unfortunately, I sold a lot of my Liberty and United Artists pressings a few years ago on eBay, generally for $10 or $20 apiece, which was the going rate at the time. Fortunately, however, the reason I sold those pressings was because I was able to obtain copies of the originals and these were just duplicates.
Also in the inbox was a link to this record: Lionel Hampton, Jazztime Paris, Blue Note 5046. This was an original pressing from the Jazz Record Center. The record looked to be M- and the cover was probably VG++. It sold for $1,009, joining the $1,000 bin. Who wouldda ever thunk it: Lionel Hampton in the $1,000 bin. The power of Blue Note persists no matter what, it seems.
I have a few other updates while I am cleaning out the Jazz Collector inbox, including:
This year's WFMU Record Fair is over and the dates for next year's are now available: April 27-April 29 at the Brooklyn Expo Center again. I didn't hear from anyone about this year's show. Did anybody go? Want to send a report? You can put a comment on this post or, if you are really game, you can send me a more detailed account and I can put it up as a guest post.
This looks like a really cool new vinyl release: Thelonious Monk with John Coltrane: The Complete 1957 Riverside Recordings. It's a vinyl issue, and I can't wait to get my copy. Once I do, I will do a review as well, although that will have to wait: Heading out later today for a brief holiday, which may or may not affect my posting. Although, to be fair, my posting has been anything but consistent lately, due to a super heavy workload in the work that actually pays the mortgages around here.