Guest Column: Blue Note Angst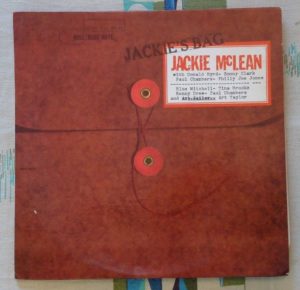 Our friend Daryl Parks, who wrote a previous post on originals versus reissues, has written another piece, this one around the angst of both owning and selling original Blue Note records (and others) worth a lot of money. Here 'tis.
By Daryl Parks
Let me cut to the chase: I am selling first-press, holy grail Blue Notes this week. In our Jazz Collector community, we rarely discuss the emotions related to such sales, so I will. I'm not sure that I'm doing the right thing by selling these records. I am guess that your comments or bids will let me know.
I began to follow Jazz Collector some six years ago. A retired neighbor had given me a few pristine jazz lp's worth a few dozen dollars, which caused me to learn as much as I could. Al and the JC family taught me more than I ever knew I wanted to know about jazz records: first editions, grooves, initials in the runoff, and more. As I knew I would never be able to afford the rarest of the rare first editions at the center of the site's clamor (e.g., Blue Note, Prestige, New Jazz) I stood offstage with my re-issues and infrequent Impulse first presses for five years. I often dreamed about owning just one of the rare ones described and discussed. (Fast forward) Then, last year, out of the blue, I owned six.
I knew enough about jazz vinyl to help a jazz family sort and plan to sell a major collection of 6,000 lp's from their passed loved one. After the organizing and pricing, as they neared the sale, they allowed me to buy some solid Blue Notes – Jackie McLean, Art Blakey at Birdland , Art Blakey at Jazz Corner , – along with a couple that appeared less significant at the time, an obscure (1972) private press of 90 (?) free jazz lp of New Art Transformation and a "Liberty" press of Wayne Shorter Adam's Apple. It was an open, solid deal for both of us, even as the buyers of the 6,000 lp collection stood at the door. (Dang, I wish I could have afforded that Tina Brooks.)
I've read every word on those sleeves in the year since. I've listened alone in the dark as each pristine groove played. "Wow, wow, wow," I would tell myself. "I cannot believe I own these!" Over time, however, my love of these rare Blue Notes has struggled to keep pace with their dollar values. As I noted in a previous JC article it may be that my 53-year-old ears or my audio equipment is somehow disconnected from the quality those first press grooves emit; moreover, the pull of first presses as "objects" is simply not as significant for me as most of my Jazz Collector mentors. I've struggled to reconcile the difference between the financial value of my first presses and the sound of the reissues of the same lp.
I've loved owning the wildly rare, "impossible to find," "thick American cardboard" lp's of first press Blue Notes (& a rarer free jazz lp) that I'd coveted for so long. That said, I have placed them for sale. It's hard for this educator to justify owning items that I cannot appreciate to the full extent of their value.
One more point of interest, I think: I actually worried about these lp's. Every time I took them out, I wanted an outfit like John Travolta starring in the Boy in the Bubble. I worried if my turntable was adjusted perfectly. I worried that one of my kids would touch the cover with jelly on their fingers. I worried that I might drop an lp on my unvacuumed rug.
Next weekend the auctions will end. I will pay my great pal, TJNovak — the conservative grader with the perfect history — for consigning them. I will pay Ebay and Paypal. With the rest of the money, I will first pay for the reissues of the exact same lp's, allowing me to enjoy them with my ears, system, and family situation, as I tell others, "Ya know, I once owned the first press of this!" I will then (mentally) pay for all of the records I've bought the past five years at thrift stores and estate sales that turned out to be duds in ways that I was not educated enough to spot at those times. I will also pay for more of the Impulse and Riverside records that I'm more comfortable touching, along with additional BN reissues, to expand my growing love of jazz vinyl. I will also send some back to the family from which I bought the first presses, I mean… none of us foresaw a first-press, Shorter Liberty skyrocketing like this. Really, I did not mean to underpay that much.
When it is all done, I will remain unsure that I have chosen wisely. It's not that I fear that their values will skyrocket in the years ahead, though they may. It's not that I deeply fear I would have scratched or ruined one of them. It's more the certainty that I do not/will not appreciate their amazing value as BOTH objects and sources of sound, as reflected in their potential financial worth. I am blissful listening to the reissues of the same lp, though they would likely sound better with Al's smoking influence. I just want to sell them to JC family members who can appreciate their entire, whole, "damn-I –finally got that" worth.