Guest Column: Collecting Blue Note CDs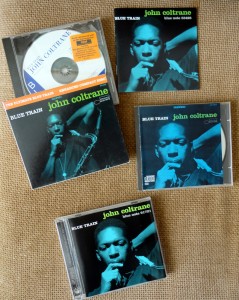 Mattyman has promised us a guest column about collecting Blue Note jazz CDs and here it is:
Collecting Blue Note Albums on Compact Disc
Guest Column by Mattyman, The Netherlands
First of all a big thanks to Al for giving me the opportunity to tell y'all something about collecting Blue Note releases on CD, which I've been avidly doing since the early nineties. Since I couldn't think of a 'logical line' in my column, I decided to randomly describe a few of the things that I pay attention to before I buy a CD and to make things more clear, I have once again created a photo page that y'all can use while you read the story. The few photos that I included in this story are only meant to literally jazz up the look of the column. I will continuously refer to that photo page as well, so maybe the best way to do this is to open the page in a new window.
Here we go, folks!
The first jazz album that I ever bought was John Coltrane – Blue Train, in 1992. There was a reason why I bought it. My favorite Dutch writer (and known jazz collector, drummer and DJ), Jules Deelder, has written many long and short stories about his deep love for jazz, how he first heard it as a little boy and how mesmerized he was by the voice and trumpet playing of, as he'd find out later, Chet Baker. His endless hunts for vinyl are the most fun to read, since I had been digging like that myself for seventies funk. I wanted to know more about jazz, 'cause if Jules Deelder dug so frantically, it had to be good. I honestly had not listened to one jazz album in my entire life before 1992. So I went to my favorite record store and grabbed Blue Train, simply because
it was the only title I knew and I liked the cover. I got home and played it, many times for days on end. A whole new world of music opened up for me and I bought more. Once I finally shed my first tears while listening to "Lover Man" by Charlie Parker, I became a jazz addict. I bought and still buy material from all the known labels, but first and foremost I buy Blue Note. This is also the moment for the readers to open the photo page! Click here for the link. When flipping through the photos, my suggestion would be to do it as slide show, which offers a full screen, high quality experience. After clicking the link, look slightly to the left upper corner of the page that opens and click "slide show", you can then go through the pics with the left and right arrows on your keyboard. It's very handy to do that while reading along.
There are a lot of things that can make a re-release on CD collectible for me, but I'll just describe a few things in order to keep the length of the column acceptable. The first Blue Train I bought on CD was released in 1985, nothing fancy about it. But then, in 1997, it was the fortieth anniversary of Blue Train and, presto: The Ultimate Blue Train was released. It contained two bonus tracks, an interactive part with audio and video and an intriguing story about the alternate version of "Blue Train" and its piano solo. A close-up of these notes is in the photo page. In 2003, Blue Train was re-issued for the RVG series, so of course I had to add that one to my collection as well. (This pressing contained "copy control" data, which made playback on a computer or in a car a pain in the neck and EMI later abandoned it.) And of course, with every new re-issue it was said that the audio quality improved, which was also a reason to buy the latest re-release of many other titles. The only thing that bothered me a bit was the apparently careless use of whatever Blue Train cover they had laying around; when you look at the photos you see what I mean.
Besides the fact that on many forums I found a lot of hot fired discussions about the good or bad audio quality of certain re-issues, I focused on what I saw printed on the back of some of the Blue Note re-releases. This is best explained by looking at the reissues of, for instance, Miles Davis' Birth Of The Cool, his Volume 1 and 2 on Blue Note and Lou Donaldson's Lush Life. The first two re-releases that I have of Birth Of The Cool sound really awful  (even the second reissue remastered version by Mark Levinson), but that changed when the RVG edition was released. It's funny how honest record companies get for reissues, 'cause now all of a sudden we read in the booklet that all previous reissues of Birth Of The Cool had been made from a regular LP master, while Rudy van Gelder returned to the absolute first-generation masters of each individual track. The end result is absolutely stunning and the RVG edition of Birth Of The Cool sounds just fabulous. When I later on bought Miles Davis' Vol.1 and 2 on Blue Note, I found some startling information on the back of Vol.2: "The master tapes on all but the previous unissued selections are lost and we have spent considerable time repairing and improving the sound of the tapes with which we were left"… This basically means that the masters of Kelo, Enigma, Ray's Idea, Tempus Fugit, CTA and I Waited For You, are gone. This is confirmed on the RVG edition of Miles Davis' Vol. 2, where it states that only tracks 7 to 11 were mastered from original tapes. I found that stuff incredibly intriguing. What happened to those tapes? Where had they gone? Who had them? At the same time it turned out that the very first Vol.1 and 2 reissues on CD still carried the "a product of Liberty records" remark on the front cover! And there was more lost tape drama: When Lou Donaldson's Lush Life (aka Sweet Slumber, Japan) saw it's RVG reissue, it bluntly said on the cover that the master tape was lost and that the CD had been remastered from a test pressing! Again: intriguing stuff. A lost master: How can that happen? Anyway, when you follow my photo page, you will see the great photos in the Lush Life booklet, the track listing for the Ammons and Lewis reissue, with the info about the mastering from 'somewhat' damaged discs and a missing track. When we reach the Bud Powells Vol.1 and 2 reissues we read that all tracks on Vol.1 were remastered from lacquer discs.  The only thing I wonder here is if that was already the case when the 12" LPs of Bud Powell Vol. 1 and 2 were released back then. Apparently in 1949 and 1951, Bud's material was never recorded on tape but directly on lacquers, but then again: I know now that many, many recordings were made that way in those days. Directly on a lacquer, and it had to be done in one take. Imagine how fragile these discs must have become by now. I don't know why stuff like that intrigues me. Maybe it's the thought of adventurous research trips through vaults and the knowledge that only a few people have access to these vaults, only to find out later that some master has mysteriously gone lost.
And while we continue flipping through my photo page, I show you previously or partially unissued sessions. There are many, but I will show a few that are truly awesome. Comin' On by Dizzy Reece. Just look at the personnel. Truly a super CD and collectible, in my opinion. Then look at Cool Blues by Jimmy Smith: Only four cuts have been issued before. The entire live set is just fabulous and again, look at that personnel! Last but not least we see Tina Brooks' sessions that had been shelved for decades before they saw their reissue on CD. Top-notch material with extensive booklets, photos and great stories from Michael Cuscuna. It's information like this that should tickle every jazz lover's curiosity, especially since we're talking superb jazz!
After the Tina Brooks photos we move on to various kinds and some of the joys of certain reissues. Check out the Freddie Redd Shades Of Redd, the Connoisseur edition followed by the RVG edition. Bonus tracks and extra photos by Francis Wolff. Then we see a few Japanese reissues in the RVG, series which pose questions, since those RVG remasters were released and remastered much earlier than the US reissues, they always lack bonus tracks and, in my honest opinion, sound inferior to the US versions. Could it be that the Japanese have first-generation copies of the original masters and more or less 'RVG' those tapes themselves? It makes sense in a way, 'cause why is it that they never reissue with bonus cuts? The Japanese Bennie Green reissues on the other hand sound just fabulous and at the same time I've never seen a domestic reissue of the Bennie Greens to begin with. The folded up 'back covers' in some of those Japanese reissues are of course always a joy. Then we move on to 'crappy' reissue work. Kenny Dorham's initial reissue of 'Round About Midnight looked ugly and missed the usual Blue Note look and feel, which thankfully was restored for the RVG edition. We also had the clumsy cover use of the first domestic reissue of the Jazz Messengers. The Japanese and the later RVG edition follow the original front covers. But the first domestic reissue simply used the red cover for both volumes. Again I show you that the Japanese reissues always omit the bonus cuts. Just look at the track listings, also at the one from Paul Chambers. I know there are Japanese "Volume 3" reissues, but that is not always the case. Many Japanese fans probably buy import US pressings to get to the bonus cuts.
Last but not least I show you a release that uses the extended playing time of the CD very well. Look at the Japanese pressing of Kenny Burrell's Introducing. They release the album as an exact replica of the LP from back then. The domestic reissue, however, puts all three first Kenny Burrell sessions, from which certain tracks were only released in Japan, on one double CD!  The pictures say enough. The other thing that happens, is that sometimes the early reissues from the nineties put the tracks of original sessions in the exact order in which they were recorded, which I prefer. This happened with Hank Mobley's No Room For Squares, The Turnaround and Straight No Filter. But then, when the RVG reissues appear, they scramble all the tracks again as they were listed on the original vinyls back in the days. Just follow the photos; again it's all a reason for me to buy the reissues and consider them collectable. The last few photos show a promo copy of Dizzy Reece's Blues In Trinity and the beautiful RVG reissue cover of Mobley's Another Workout next to the incredibly ugly Another Workout cover from the nineties reissue. The very last snapshots show you the rest of my Blue Note CDs.
I hope you all enjoyed my column. As said I just wanted to share a few things with you that make collecting CDs fun for me.  — Mattyman