Guest Column: Reviewing The Blue Note Guide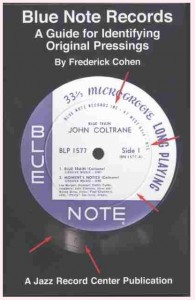 Mike Falcon has promised a review of the new Fred Cohen book, and here it is:
Blue Note Records A Guide to Indentifying Original Pressings
A Review By Mike Falcon
For as long as I have been collecting Blue Notes there has been a large chorus asking for a complete guide to navigate the complexities of what constitutes a first pressing.  And now they have it.  Frederick Cohen has given us "Blue Note Records, A Guide to Identifying Original Pressings" an authoritative manual on the Blue Note discography.  This includes the EPs, 10" LPs, and all of the pre-Liberty LPs in both Mono and Stereo.
I first went to the Jazz Record Center in 2002.  I had never seen a record store like it.  Everywhere I looked was something interesting and new to me.  I spent a long while thumbing through records looking at the photos and memorabilia on the wall, and thinking that if I ever win the Lotto I'll be back here first.  I've never won the lotto but I've been back a few times, always with less money than I would have liked.  I had spoken to Fred a few times and was always impressed by how informative he was.  I would think, "This guy should write a book".  Well he has.
"Blue Note Records, A Guide to Identifying Original Pressings" is a nicely bound 6 ½" x 9 ½" inch black book with the Blue Train label with red arrows pointing to the various identifying features on the cover.  It's written more like a compendium or research paper and is not in the narrative form.  It starts with an introduction, preface, and acknowledgements, before getting to the list of illustrations and glossary.  The glossary and illustrations are necessary to understand what you are reading when sorting through the pressing guide.  The illustrations show what is meant by all of the famous Blue Note esotery.  This includes examples of the famous
Plastylite "P", all the Rudy Van Gelder stamps (including pictures of Van Gelder's actual stamping tools), all of the label addresses, laminated and non-laminated covers, frame covers (commonly referred to as Kakubuchi), and other identifying marks.
The meat of the text is the pressing guide, which goes through the catalog series by series and identifies what should constitute an original pressing.  An example would be something like this:
4059                        W63i, dg-s2, P, RVGs, br / NYC, lam
This indicates that the BLP 4059 original record has the West 63rd Street address with INC after Blue Note Records, a deep-groove on Side 2 only, the Plastylite P and RVG stamped in the dead wax, and a beaded rim; the cover has the 43 West 61st St. address on the back and is laminated.  All other characteristics of 4059 (in this instance just "PS", i.e. printed spine) apply to its group, the 4000 mono series."  It takes a few tries but is pretty intuitive after a few references.  The pressing guide is broken up by the different series and then by stereo or mono.  Once the abbreviations are understood, it takes a just a minute to reference a particular pressing.  Anything exotic about a particular record is denoted by an asterisk and explained at the bottom of the page.
There are quite a few details in here that will aid all but the most experienced collector in their searches.  There is more. There is a section on the mono vs. stereo question with Rudy Van Gelder, pictures of all the inner sleeves, a discussion about the history of Blue Note during the transitional periods, a chronology of release dates, a list of known stereo sessions, and a very interesting section on some of the most rare pressings (not 1538, 1568, or 1588, but rarer!).  Then Fred gives the closing word, which addresses some of the individual pressing details that are left to be explored further by the collectors.
This book may leave remaining questions about details but will be invaluable to almost all collectors to help organize their information and create more sophisticated collectors.  Much money can be spent chasing down pressings that are thought to be first, only later to find out that they are not and worth a fraction of what was paid.  This makes it invaluable to me.
Blue Note Records A Guide to Indentifying Original Pressings is available for $45 plus shipping and handling at the Jazz Record Center website.