Happy Holy Grail Day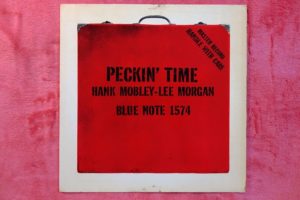 Catching up on my watch list after a few days off eBay, starting with Hank Mobley and Lee Morgan, Peckin' Time, Blue Note 1574. This was an original West 63rd Street pressing listed in M- condition and Ex for the cover. Looks like there was a three-way bidding war for this LP and it wound up selling for $2,700.
Here's one for those of you who like to use the term "Holy Grail," although it is a term I normally avoid, except for a few seconds ago: Jackie McLean, The New Tradition, Ad Lib 6601. This one is listed in Ex condition by the seller and, based on his key, that seems like it would be a very strong VG+ using standard Goldmine grading. This one is already in the $1,360 range with more than a day left on the auction. It will at least join Peckin' Time in the $2,000 bin and will probably sell for quite a bit more, based on past history with this record. 
Here's another of similar holy grailiness from the same seller: Tina Brooks, True Blue, Blue Note 4041. This is an original pressing that looks to be in VG+ condition for the record and probably around VG++ for the cover. The bidding is in the $1,000 range, but probably won't stay there for very long.
And then there is Sonny Rollins, Saxophone Colossus, Prestige 7079. This is an original New York yellow label pressing. The record is listed in VG+/VG++ condition and the cover is listed as VG+, although the picture shows some definite issues with the cover, which, as a buyer, would make me skeptical of that VG++ part of the grading on the record. Well, to be honest, it would make me skeptical period. Perhaps I'm not the only one. This one has a start price of $1,400 and so far there are no bidders.