Heading For The $1,000 Bin?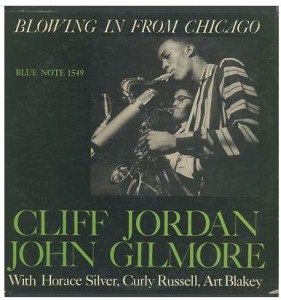 We're now watching some jazz vinyl from the current Jazz Record Center auction, which closes tomorrow. Here's some of the records on our watch list, starting with: Cliff Jordan and John Gilmore, Blowing in From Chicago, Blue Note 1549. This is an early deep-groove pressing with the West 63rd label on one side and the New York 23 label on the other. The record looks to be in beautiful M- condition, and the cover looks equally nice. The current price is $260. I would expect this to sell for a lot more. If it doesn't, perhaps I will be in the mix.
Sonny Rollins, Saxophone Colossus, Prestige 7079. This is an original New York yellow-label pressing. The record and cover both seem to be in at least VG++ condition, based on the descriptions. The price is currently in the $700 range.
Miles Davis, Volume 1, Blue Note 1501. This is an original Lexington Avenue pressing in what looks to be in near-pristine condition, M- for both the record and the cover. The bidding is at around $200. We've seen this record sell for as much as $1,007 in the Jazz Collector Price Guide. Will this one match that? We'll find out tomorrow.