Heavy Hitter Day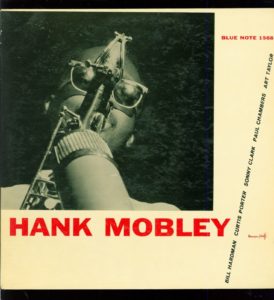 Lots of heavy hitters on eBay this week, including a high-end Blue Note auction from the Jazz Record Center that includes this beauty: Hank Mobley, Blue Note 1568. This is an original original pressing, meaning side two has the New York 23 address, which makes it the one most prized by the most avid collectors. The record is probably in VG+++ condition and the cover looks to be M-. The auction closes tomorrow and the bidding is now in the $4,000 range with 18 bids and eight bidders. Anyone want to take a guess on the final price for this baby? We've seen $9,000 in the past, but my memory is that was not a legitimate bid or sale. I'm guessing this one sells for somewhere in the $6,000 range. Here are a couple more from the same auction:
John Jenkins and Kenny Burrell, Blue Note 1573. This is also an original pressing that looks to be in M- condition for both the record and the cover. The bidding for this has surpassed $1,000 with only two bidders. Will it make the $2,000 bin?
Louis Smith, Smithville, Blue Note 1594. This is an original pressing. It's at least in VG++ condition, probably M- for most collectors. The bidding is in the $800 range.
This seller has a few nice Transition records for sale now, including Donald Byrd, Byrd Blows on Beacon Hill, Transition 17. This is an original pressing with the booklet. The record is listed in Ex condition and the cover VG+ with a seam split. Bidding is in the $725 range and the auction closes later today. Also, Jazz by Sun Ra, Transition 10. This is another  original pressing with a booklet. The record is listed in Ex condition, and the cover looks to be VG or VG+, depending upon how you feel about tape on an otherwise black cover (I don't like it, so it would be VG for me).