Here Are Jazz Collectibles You Won't See Every Day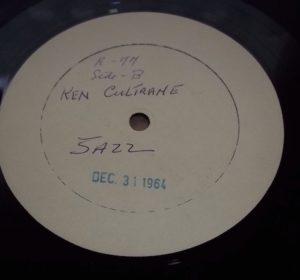 Two of our regular readers, Clifford and Michael, separately sent me links to this rare jazz collectible, wondering if it was legitimate: John Coltrane, A Love Supreme, Impulse A-77, Test Pressing. Take a close look at it. Does it really say "Ken" Coltrane? Anyway, it looks legit to me. Unfortunately, it was only in VG condition and, of course, it didn't have a cover. The final price was $300, which seems pretty reasonable to me for what I imagine is a pretty rare collectible.
One of our readers, Dave Sockel, recently was in touch with a relative of Duke Pearson and sent me a PDF of this very cool collectible — duke-pearson-session-book-1969-1970. It includes rehearsals, musicians and their fees, session dates, comments on the sessions and dozens of signatures from the various musicians, confirming their payments. Thanks to Dave for sharing and allowing me to post this on Jazz Collector.
Meanwhile, back on eBay, here are some of the records we've been watching, starting with Art Taylor, Taylor's Tenors, New Jazz 8219. This looks to be an original purple label deep groove mono pressing. The record was listed in VG+ condition, as was the cover. The final price was $319.
Tina Brooks, True Blue, Blue Note 4041. This was also an original pressing, also listed in VG+ condition for both the record and the cover. It sold for $1,754.99.
Sonny Rollins Plays, Period 120. This was an original pressing listed in Ex condition for both the record and the cover. It sold for $890. Let me reiterate my personal philosophy on records such as these — ones that I don't own and would fill in major gaps in my collection. As much as I would like to own this record, I will typically not pay top dollar on eBay. I don't begrudge anyone willing to pay top dollar and, in fact, I am glad that they are setting the market. I have every other Rollins collectible from the era, and I have a reissue of this record. So if I want to listen to Rollins, I have plenty to listen to. And, if I want to hear this music, I can do that as well. I feel fortunate that I don't have that particular form of obsessive gene that requires me to own every original pressing of every record I want. There are days when the urge is very strong, but then I look at my collection and am typically quite content with what I have. I've waited 45 years of collecting to get some of the nicer records in my collection. My feeling is, I can wait longer for the rest. But that's just me.