Here Comes Louis Smith — Coltrane and Rollins, Too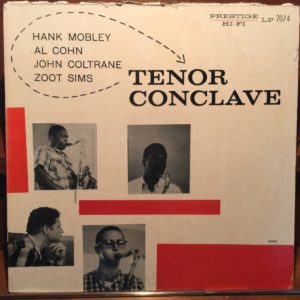 Geez, did you see the final price on that Here Comes Louis Smith record we were watching the other day? It was an original pressing in VG++ condition for the record and VG+ for the cover. We predicted it might make it to the $1,000 bin, but didn't expect it to get into the $2,000 bin, which it did at $2,027. That would make it the highest price we've seen for this record, according to Popsike, which, interestingly, already has it posted on their site. So, with a VG+ cover this copy received a price that was more than $500 higher than the previous top price. Not bad.
Meanwhile, I was watching this record and it didn't sell at all: John Coltrane (et al), Tenor Conclave, Prestige 7074. This was an original New York yellow label pressing, listed in VG+ condition for the record and VG for the cover. The start price was about $400 and there were no bidders.
I happened to pull this record off my shelf the other day to listen. I'm trying to get back to records that are not on my frequently played list. What I found most interesting about this record, as you would expect, was Coltrane. He is still relatively early in his development — this was before his first album as a full-fledged leader — and his playing is safer and more straight-ahead than it would be even a few months later. The other tenor players are Zoot Sims, Al Cohn and Hank Mobley, so it is quite a session, along with Red Garland, Paul Chambers and Art Taylor. If it was on Blue Note, what would it be worth in that condition? Close to $1,000 or more, right? Anyway, if you don't own this record, it's a good one. And, of course, in my collection, which is organized alphabetically and not by label, this one is filed with the Coltranes.
That Sonny Rollins Worktime UK pressing that we were watching also finally sold. This one was in Ex condition for the record and VG+ for the cover. The final price was about $135. The same record had previously sold for about $270, so perhaps the buyer got a bargain. I would take it at the final price so, seller, if you are a reader of Jazz Collector and this deal also fails to be consummated, you know where to find me.