High Priced Vinyl, Mobley Update, WFMU Record Fair, An Offer You Can't Refuse (At Least, I Can't)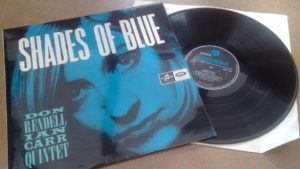 Whilst I was offline I missed a record that ended up in the $3,000 bin: Don Rendell Ian Carr Quintet, Shades of Blue, Columbia, 33SX 17333. This was an original 1965 UK pressing that was probably in VG++ or M- condition. The final price was $3,024.98. I only know of this record from watching it on eBay all these years. Is the music that good, or is there something else that is so appealing about this record that it would command such a high price?
One of our readers sent me a link to this record, noting that the price seems to be rising: Phil Woods, Warm Woods, Epic 3436. This copy was in VG++ condition for the record and VG+ for the cover. It sold for $605.55. Doesn't seem that out of line for this record. If you look on Popsike, there are copies that have sold for higher prices, although probably in better condition. That's one of the things that I'm noticing — for many of these classic records, condition is less of an issue than it used to be. Can't help wondering if that is because people are collecting them to own them as opposed to listening to them.
Same reader sent me this link as well: Freddie Hubbard, Open Sesame, Blue Note 4040. This was an original West 63rd Street pressing listed in VG++ condition for the record and excellent condition for the cover. The final price was $2,026.
And to follow up on a couple of other items:
That copy of Hank Mobley Blue Note 1568 from the Jazz Record Center is now at $3,927 with more than three days left on the auction. Seems pretty clear that my guess will come up short. I will have to close the contest by end of day today, just to be fair to everyone. If anyone would like to adjust their guess, I am OK with that, but it has to be done by midnight my time (New York) today. I really do intend to give a prize, probably a book or a record, but nothing too rare or valuable.
Speaking of rare and valuable collectibles, there may be an opportunity to pick something up in Brooklyn today, where the 2017 WFMU Record Fair begins. I will not be there with a booth, having sold all of my duplicates at the fair two years ago (See You in Brooklyn? Not Anymore). If I could, I would go to early admission today, but I have work deadlines. If you don't get there early, many of the best collectibles tend to be sold. In my experience, dealers come in from all over the world, spend the money for a table so that they can gain admission as the sellers are coming in, and anything decent at a decent price gets scooped up before the general public gets in. But it's still fun. I would go tomorrow but I am doing something even cooler: As part of the Tribeca Film Festival there is a showing of The Godfather and The Godfather Part II at Radio City Music Hall followed by a panel discussion featuring Francis Ford Coppola, Al Pacino, James Caan, Robert Duvall, Diane Keaton, Talia Shire and Robert DeNiro. Pretty cool, huh? Perhaps I will go to the WFMU Record Fair on Sunday to look at the scraps and leftovers.