Horace Parlan, RIP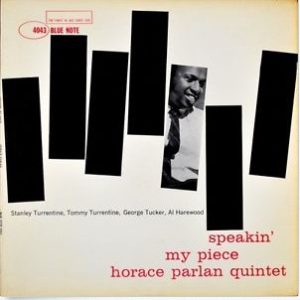 Here's a nice rare Blue Note: Horace Parlan, Speakin' My Piece, Blue Note 4043. This looks to be an original West 63rd Street pressing with the deep grooves, ear and RVG stamp in the deadwax. The record looks to be in M- condition and the cover is VG++. The start price is $700 and there are four days left in the auction, with no bidders yet. We are starting our post today with this because we just saw the news that Horace Parlan passed away yesterday at the age of 86. Or course Parlan is well known in the Jazz Collector world for the albums he recorded on Blue Note in the early 1960s. I was originally going to mention six albums, but I looked at his discography and came upon the album "Happy Frame of Mind," which I had forgotten about because it wasn't issued until the 1980s. In any case, we mourn the passing of another one of the fine musicians of the era. I recall seeing Parlan in the 1970s and was quite impressed with his musicianship and percussive style, and the fact that he was limited to the use of just two fingers on his right hand. RIP.
That Sonny Rollins record we were watching on Esquire fetched quite a handsome price: $809.41 to be precise. I guess finding bargains among the Esquires will become harder and harder now. Admittedly, that one looked to be in great condition, but I've been watching eBay for nearly at least 17 years and I don't recall the original Prestige version of Moving Out selling for that high a price. A quick check of Popsike confirms my suspicions. So we now have a situation where the original UK version seems to have a higher market value that the original US Prestige version. Has anyone noticed this phenomenon happening before?
Speaking of Prestige, I'm still watching that copy of Jackie McLean, Jackie's Pal, Prestige 7068, which is closing in about an hour. The bidding is in the $400 range, which is quite a bit higher than when I first noticed it at $45, but still not near what we would expect for this record in M- condition for the record and VG++ for the cover. We'll see what happens at the end of the auction.