Jan 22, 2009 Blue Note, Free Collectibles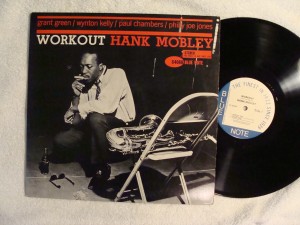 OK, now that we're back posting regularly again, it's time to give away another free record. So far we've done two giveaways: An OJC copy of The Dual Role of Bob Brookmeyer, Prestige 7066 and a copy of Wayne Shorter, Adam's Apple, Blue Note 84232. For the next giveaway we have another Blue Note: Hank Mobley, Workout, Blue Note 84080. This is not an original pressing — we're generous, but not THAT generous — but, instead, is a 1988 reissue from EMI-Manhattan records. The record and cover include the original packaging, including the liner notes from Leonard Feather. Both the record and cover are in M- condition, very nice. Personnel on this LP includes Mobley, Grant Green on guitar, Wynton Kelly on piano, Paul Chambers on bass and Philly Joe Jones on drums. It was originally recorded on March 26, 1961. 
We have one copy of this to give away, so we will conduct a drawing. In order to participate in the drawing all you have to do is comment on the site — you can comment on this post or ANY post — between now and the end of the day on Feb. 4. This gives you more than two weeks to comment anywhere on the site. At the end of the day on Feb. 4 — which happens to be my birthday — we will put all of the names of the participants into a hat and ask our lovely bride, Mrs. Jazz Collector, to pull out one lucky winner. Then we will send the record to that person for no charge at all — we will even pay for the shipping. So good luck to all, and we hope to see some of your comments on the Jazz Collector site.
Tags: Bob Brookmeyer, Hank Mobley, Wayne Shorter