How Much is Shrink Wrap Worth? Plenty, It Seems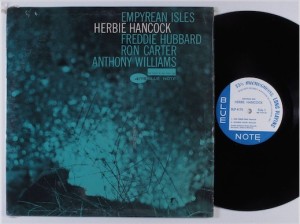 I'm still here, haven't left yet. Thanks to Clifford for filling in, but while I'm here I'll strive to do at least a couple more posts. Here are a couple of items that came in from readers, starting with our friend CeeDee under the subject: "prices going up, up, up . . . Liberty!" with a link to Herbie Hancock, Empyrean Islands, Blue Note 4175. This was a clear Liberty pressing, no doubts. It was in VG++ condition for both the record and the cover, and the cover was also in shrink wrap (big deal, right?). The record sold for $300 and there were at least four bidders in on the action at the end. Is this a trend, Liberty Blue Notes selling for collectible prices?
This one came in from another reader, and I'm not quite sure why, but I'll post it here anyway:
Introducing Lee Morgan, Savoy 12091. This was in its original shrink wrap but to me it is an obvious second pressing because of the white edges around the cover. No way this is not a maroon label, and the seller acknowledged it as well. The record sold for $140 and our reader suggested that it seemed like a good value. I respectfully disagree, unless you happen to be a collector who wants second pressings or keeps records unopened in their original shrink wrap to be admired on the shelf as opposed to being played on the turntable.