Hush and Go: A Pearson and PC Day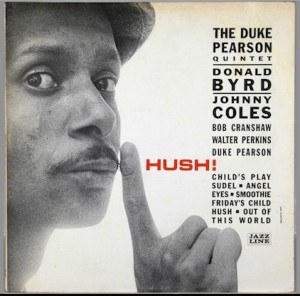 Just spent some time perusing eBay and added a few more items to our watch list, which is not the same as our wish list. Here's some of the jazz vinyl we're watching, starting with The Duke Pearson Quintet, Hush, Jazzline 3302. This is an original pressing of a record that you hardly ever see posted on eBay. This one is in M- condition for the record and probably VG+ for the cover, depending upon your level of discernment. For me, it's VG+. The bidding is in the $300 range and there are still more than two days to go. If you check out this record, check out the seller's other listings. It is one of the dealers from Italy who often has very nice listings. In addition to Hush, for example, you will see Paul Chambers, Go!, VeeJay 1014. This is an original pressing with the maroon label and deep grooves. It looks to be in M- condition for the record and the cover. The price is
in the $100 range, but it hasn't yet met the seller's reserve. Despite the presence of Cannonball Adderley, Freddie Hubbard and an all-star rhythm section, I've never noticed this album to be overly desirable to collectors, so I'm curious to see if it will sell and at what price. Of course, if it had been recorded on Blue Note, we'd be looking for this one in the $1,000 bin.
While we're on the subject of Mr. PC, this seller has a couple of nice LPs for sale, to wit: Paul Chambers, Bass on Top, Blue Note 1569. This is an original West 63rd Street pressing with the deep grooves, etc. The record and cover are both listed in Ex condition, which looks like VG+ in my grading system. The price is in the $215 range with a little more than a day left on the auction. I don't have an original pressing of this record. Hmmmm . . .
From the same seller: Paul Chambers, Whims of Chambers, Blue Note 1534. This is an original pressing with the Lexington Avenue address and the frame cover, among other distinguishing characteristics. The record looks to be in M- condition and the cover is probably VG+. The price is $345 with little more than a day to go.