Interesting Prices, Know What I Mean?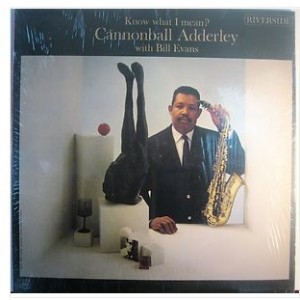 I just jumped on eBay to check out a few jazz vinyl auctions before football starts here in the states, and this record was about to close: Cannonball Adderley with Bill Evans, Know What I Mean, Riverside 433. This was an original blue label pressing in M- condition for both the record and VG+ for the cover, still in its original shrink wrap. What struck me was the price tag: It was more than $230, which is really quite high for this record, based on historical prices. The auction just closed at $261. Regular readers will know that this is one of my personal favorites, certainly on my top 25 list of jazz records, and perhaps even in the top 10. But in the Jazz Collector Price Guide, we've never captured a copy at more than $100, let alone more than $250.
Our friend CeeDee sent me a link to this record, when the price was in the low $100 range:
Walter Davis Jr., Davis Cup, Blue Note 4018. This is an original pressing in M- condition for both the record and the cover. It is a prominent one on my want list and anything less than $500 would be a sweet price, don't you think? The price is now in the $300 range, but it hasn't yet reached the seller's reserve. We'll see if it reaches the reserve when we look later.