Is This The Rarest of Them All?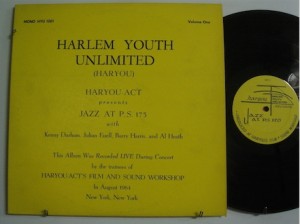 Buongiorno! Back from Italy and a little bit worse for the wear. My flight home was delayed because a horse was acting up in cargo and they had to remove all of the luggage, then remove the horse and then reload all the luggage. Yes, that really happened. Then I got a nasty cold, but I'm starting to feel better and finally am able to look at eBay to see what's going on. I want to thank Clifford Allen for filling in while I was away. Clifford, I really appreciate it and you did a great job — please feel free to continue posting at any time. I think it adds a lot of value to the site to have another perspective.
I did a search on eBay and found an extremely interesting record, which is: Kenny Dorham, Harlem Youth Unlimited, Jazz at PS 175. This is a live recording from 1964. I was told by a reputable dealer several years ago that this is possibly the rarest jazz record of them all. Has anyone else heard that? I've been looking for a copy for more than 30 years — ever since I learned about it — and have never seen one. In fact, this is the first one I've ever seen even on eBay. I will be very curious to see what this record sells for, particularly now that I have called attention to it. This one is in VG++ condition for the record and the cover. The start price is about $900 and there are nine days to go on the auction. I'm curious if anyone in our community owns this record and how it sounds.
Here's another rare one, but one that we seem to see all the time on eBay: Tommy Flanagan Overseas, Prestige 7134. This is an original New York pressing in M- condition for the vinyl and Ex for the cover. This one is already getting a lot of attention with five bids and a top bid of more than $1,000, even though there are six days left in the auction. Even though the bidding is more than $1,000, it has not yet reached the seller's reserve price.
Since "insanely rare" seems to be the theme today, let's close with Tina Brooks, True Blue, Blue Note 4041. This is an original pressing listed in VG+ condition for the record and VG++ for the cover. The bidding for this one is also more than $1,000 with more than two days left on the auction. It also has not reached the seller's reserve.