Jazz Hot, Cool and Expensive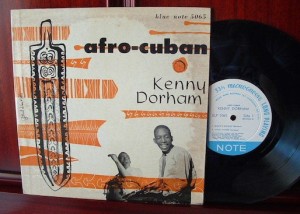 Here are the results of a few other jazz vinyl auctions we've been watching on eBay, starting with Kenny Dorham, Afro-Cuban, Blue Note 5065. This was an original 10-inch pressing with the Lexington Avenue label. The record was listed in VG+ or VG++ condition (I'd vote for VG+, based on the description) and the cover was listed in VG condition with a big stain on the front that spread to the back. The stained cover would certainly negatively impact my interest in the record, but not for the winning bidder, who is spending $902 for this record.
This was another one that was in not-so-great condition but still wound up selling for a fairly hefty price:
Dexter Gordon, Dexter Blows Hot and Cool, Dootone 207. This was an original pressing with the red vinyl. The record was described as VG visually and VG+ audibly. Take your pick. The cover was VG+ with seam splits at the top and bottom. It wound up selling for $677.
This one wound up making it into the $1,000 bin: Hank Mobley and Lee Morgan, Peckin' Time, Blue Note 1574. This looked to be an original pressing with the West 63rd Street address, deep grooves, ear, et al. The record was listed in M- condition and the cover was VG+. The final price was $1,080.60.