Jazz Vinyl Catch-Up: Two For the $2,000 Bin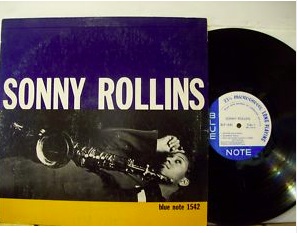 Let's catch up on some of the jazz vinyl we've been watching.
As some of you have noted, this one did sell after all: Hank Mobley Quartet, Blue Note 5066. This was the one that had the start price near $2,000 and was in M- condition for the record and cover. So, welcome to the $2,000 bin: It sold for $2,050.
Also in the $2,000 in is this from the Jazz Record Center: Art Pepper, Modern Art, Intro  606. This was also in M- condition for the record and the cover and it sold for $2,025.
How about the Sonny Rollins with the cover on the side: Sonny Rollins, Blue Note 1542. This was a Lexington Avenue pressing with the flat edge. We're assuming that when the seller took the picture, he turned the cover around to show the name clearly and the opening is really by the yellow, where it belongs. We're also assuming the winning bidder is assuming the same thing, since the price was $766.
Here's that M- Thad Jones LP that was sealed, although as someone pointed out, were the actually sealing records at the time? The Magnificent Thad Jones Volume 3, Blue Note 1546.This one sold for $430, which, given the condition, sounds like a bargain in this market. From the same seller was this: Hank Mobley, No Room For Squares, Blue Note 4149. This was described as an original mono pressing, although the seller would have been better off including more pictures to affirm that. It sold for $356.01. We did see a copy of this record enter the $1,000 bin a few weeks ago.