Jazz Vinyl For a Not-So-Stormy Tuesday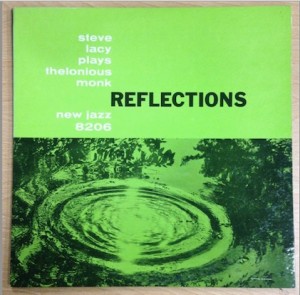 The storm was quite less than what they expected here in Manhattan, but it is still good day to hang out and spend some time idly watching the jazz vinyl listings on eBay. And these would be some of those listings that I would be watching, starting with: Reflections, Steve Lacy Plays Thelonious Monk, New Jazz 8206. This is an original pressing with the purple labels and the deep grooves. The seller has listed it in VG+ condition for both the record and the cover. The auction closes later today and the bidding is in the $150 range. This seller has been selling a lot of nice vintage jazz over the past few months, and has a bunch more items for sale this week. I also have my eye on Phil Woods, Woodlore, Prestige 7018. This is an original New York yellow label pressing. The record and cover are both listed in VG condition. The bidding is in the $130 range. I'm still searching for my first original copy of this record, but VG????? I mean, VG+ is scary enough these days, but VG could be pretty rough. We'll see. The birthday is next week, so I'm keeping my options open.
Here's a sealed, mono Blue Note for you:
Hank Mobley, Soul Station, Blue Note 4031. What to do about a record like this? If I was the seller, I'd break the seal. If it's an unplayed original, it could sell for quite a bit, maybe $1,500 or so, maybe more. But with the seal, will somebody take a chance? And, if it's not an original, will the winning bidder demand a refund? I'd hate to deal with the hassle, as the buyer or the seller. There are five days left in this auction and the bidding is in the range of about $140. I mentioned the other day that I planned to listen to this record and I did, at least side one. It's a great record, very swinging, Mobley in great form, an awesome rhythm section of Wynton Kelly, Paul Chambers and Art Blakey. My only issue with the record is it's title. With the title "Soul Station" you expect something funky, like the Sidewinder or something like that. It's not. It's just a straight-ahead blowing session. Amazing that it took me this long to listen to one of these vintage Blue Notes, but I never owned a copy until last year when I bought it in Baltimore. If I didn't own it, would I take a chance on a sealed copy? Not for the price it's likely to fetch on eBay this week.