Jazz Vinyl From Blue Note and Vogue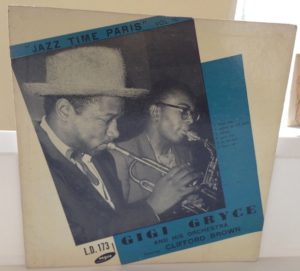 Let's start the day with a couple of 10-inch LPs we are watching on eBay: Gigi Gryce and his Orchestra with Clifford Brown, Jazz Time Paris, French Vogue LD 173. This is the original French pressing, issued before the Blue Note version in the U.S. The record and cover are both listed in VG++ condition. This one has just been posted on eBay and closes in seven days. There are already 15 bids and the price is in the $115 range. Here's the question: Would you rather own the French pressing or the Blue Note? I know, most of us would say "both" but that is not an option. I have to admit, I'd go for the Blue Note. I can't say why, other than I always have a big smile on my face when I go through my 10-inch records and come across an original Blue Note in beautiful condition. The Vogues, of which I have a few, don't have nearly the same effect.
Case in point: Clifford Brown, New Star on the Horizon, Blue Note 5032. This is an original Lexington Avenue pressing listed in VG- condition for the record and the cover. The auction closes in just three hours, so it may be closed by the time most of you read this. There are 13 bids, but it's still only in the $50 range. Even in that condition, I would expect it to sell for quite a bit more than $50. We'll see.
The seller of the Clifford Blue Note, Carolinasoul, is well known to readers here and has a lot of records on eBay not, not all of them in the best condition, but some very impressive titles. Here are a few:
Lee Morgan Sextet, Blue Note 1541. This is an original Lexington Avenue pressing listed in VG- condition for the record and VG for the cover. The bidding is in the $200 range and the auction is closing in six hours from the time of this writing. I am actually tempted on this one, as it is a Blue Note record that I have always liked, a lot, but have never owned in an original pressing. My copy is a Liberty Stereo that I bought new in the early 1970s. The VG- doesn't appeal at all but maybe the seller is being ultra-conservative. We'll see. I don't think I'd go more than $300 for a VG- record and, given the way things are going with Blue Notes lately, that probably won't be enough anyway.
This one falls into similar category for me: Here Comes Louis Smith, Blue Note 1584. This is an original pressing listed in VG condition for the record and VG+ for the cover. The auction closes in about six hours and the bidding is approaching the $400 range. My own copy of this record is a United Artists pressing from the 1980s. Not like owning an original pressing, that's for sure. My guess is the value of this record will only go up, but the price is out of my comfort zone already, and I have a feeling it will also go up. So, for me, I'll continue to wait.