Jazz Vinyl From eBay and Remembering a Score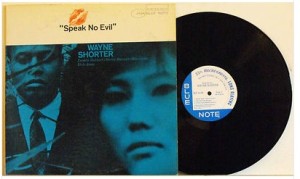 Another slow week of posting for me. Sorry about that. But it's Monday, a fresh week, a beautiful day and here I am back at my post full of fresh optimism. This week I vow to post at least once every day, starting with: Wayne Shorter, Speak No Evil, Blue Note 4194. This was an original pressing with the NY USA label, the ear and the Van Gelder stamp in the dead wax. Seller describes the record and cover as Ex, which probably translates to VG+ or VG++, based on the more detailed description in the listing. I'd probably grade it VG+ if it was my record. This one sold for $560. This seller had a bunch of other nice listings last week, but this one fetched the highest price. Here are a couple more: Sonny Rollins, The Sound of Sonny, Riverside 241. This was an original deep groove pressing with the white labels. The record was listed as Ex+ and the cover was Ex-. The price was $318.66. Ray Draper Quintet, Tuba Sounds, Prestige 7096. This was an original pressing with the yellow label and New York address. The record was rated Ex- and the cover was listed as VG. No idea why the seller varies the descriptions between Ex and VG. In any case, this one sold for $141.80.
This seller also had a large number of items last week, including:
Bennie Green with Art Farmer, Prestige 7041. This was an original New York yellow-label that looked to be in M- condition for both the record and the cover. It also had a promo stamp on the back cover. It sold for $630, quite high for this particular record. This record represents one of my favorite scores ever. I was shopping in one of the local stores on Long Island, Mr. Cheapo, many years ago. I was at the counter paying for my records. While I was waiting I decided to look in the 25-cent bin they had on the floor. This was always where they put junk that nobody would ever want, not even for a quarter. Imagine my surprise — a copy of this record, Bennie Green with Art Farmer, an original pressing, record in M- condition, cover a little bit shot at VG, with a slight tear. Think it was worth 25 cents? I did, and I left Mr. Cheapo that afternoon with a huge smile on my face.