Jazz Vinyl From Some of Our Favorite Cats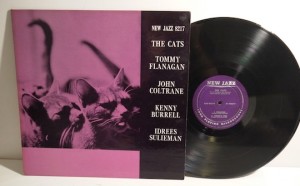 I'm cleaning out my eBay watch list so here are various odds and ends from the past six weeks or so, starting with Tommy Flanagan, The Cats, New Jazz 8217. This was an original pressing with the deep grooves and the purple labels. The record and cover both looked to be in M- condition, very nice indeed. Of course, one of the attractions of this record is that it  features John Coltrane. When I acquired this record I filed it with my Coltranes because I was just building my Trane collection and every collectible record with Coltrane was a treasure to me. I hate to tell you when this was, but it was more than 40 years ago. I can't believe I'm that old. Anyway, now that my Coltrane collection is more robust, this is properly filed with the Flanagans. This copy sold for a very nice $600. Nice for the seller and I'm sure very nice for the buyer, who will have a lovely record for his turntable and collection.
The other day I had mentioned the Dizzy Gillespie Blue Note 10-inch LP: Dizzy Gillespie, Horn of Plenty, Blue Note 5017. I had questioned why this record doesn't seem to be valued by collectors. It is a Blue Note after all, and it is bebop from one of the originators of the music. There are very few Dizzy records of high value in our world, which is kind of crazy when you think about it because he was truly one of the greats. Anyway, this one was in VG+ condition for the record and the cover. It sold for $37. Yes $37, with no zeroes anywhere.
Here's the other half of the heartbeat: Charlie Parker, Quintet and Sextet, Dial 203. This was an original 10-inch pressing. The record and cover both looked to be in VG+ condition. This one sold for $542.12.
Bill Evans, New Jazz Conceptions, Riverside 223. This was an original pressing with the photo cover and the white labels. It was in just VG condition for the record and the cover and sold for $425. I also have a VG copy of this record and paid $100 for it about 25 years ago, which I thought was really steep. And it was, actually, but it was a record I had to have. Haven't been able to upgrade my copy in all of the ensuing years. I know we've asked this before, but does anyone know why Riverside changed some of these early covers so early in the process? This one and a couple of the Monks come to mind (any others)?