Jazz Vinyl From The Jazz Record Center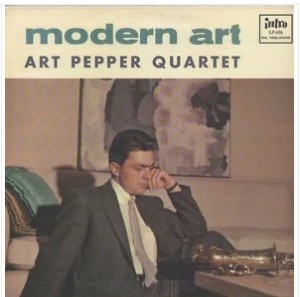 The folks at Jazz Record Center have a new eBay auction up now. It's always interesting to watch their stuff because their strong brand name ensures top market value. Here are a few of the records we'll be watching from this auction:
Art Pepper, Modern Art, Intro 606. This is an original deep groove pressing that is in M- condition for both the record and the cover. It has a start price of $750 and already has a bidder, so you can expect that this one may be headed for the $1,000 bin.
Horace Silver and the Jazz Messengers, Blue Note 1518. This is a West 63rd Street pressing, whereas the original first pressing would have been Lexington Avenue. I'm curious about this second press Blue Notes, which many of our readers think of as originals, because their prices have gone up quite a bit recently. I just bought a West 63rd copy of the first Miles Davis Blue Note, which I'll be selling at some point, either on eBay or from my basement. This one is in "near-new" condition and already has a bidder at $100.
I've always liked this record and I do, fortunately, have an original pressing: Lou Donaldson, Swing and Soul, Blue Note 1566. This one is also in very nice M- condition and has a bidder at a $350 start price.
R.I.P James Moody: James Moody, Wail Moody Wail, Prestige 7036. This is an original New York pressing with the yellow label and deep groove. It is also in M- condition. For some reason, the market for Moody LPs has never been quite as strong as for other artists of the era. Not sure why, but it has enabled me to build a nice collection of Moody LPs. This one has no bidders at a start price of $75.
Fred has this one listed as a second pressing, although I haven't bought his book yet and don't quite understand why. This one has one sided deep groove and I had always thought that was the original pressing: Kenny Drew, Undercurrent, Blue Note 4059. This one is a review copy and is in M- condition, perhaps unplayed. The start price is $250 and there are no bidders yet.