Jazz Vinyl Listings That Raise Questions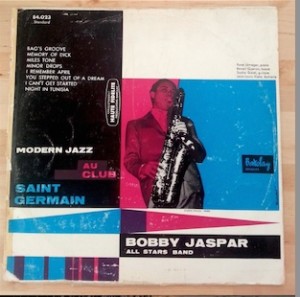 Here's one I've never seen before: Bobby Jaspar All Stars Band, Modern Jazz at Club Saint Germain, Barclay 84023. This looks to be an original French pressing that was apparently owned by Bobby Jaspar who, unfortunately seemed not to take such great care of it. The cover looks pretty beat up, I'd say VG-, but the seller lists the cover as VG+ and also lists the record as VG+, so you'd have to be a little skeptical, I guess. The start price is $300 and so far there are no bidders. I imagine the record is quite rare, in that I've never seen in in 40-plus years of scouring record shelves all over the U.S. and other parts of the world.
Someone please explain this one to me: Clifford Brown Memorial Album, Blue Note 1526. This is a New York USA pressing, with a West 61st Street address on the cover. In other words, nothing about this record is close to an original first pressing and, at best, the vinyl was issued, when, in the early 1960s? Not to mention the vinyl is in VG condition. The cover is VG+. Somehow, there have been four bids on this record and the price is close to $200. Explanations please?
Our friends at Euclid Records seem to have made a nice discovery/score:
They have a bunch of records listed as coming from the stock of a record store that closed in 1971 and whose records haven't been touched since then. Here's an example: The Unique Thelonious Monk, Riverside 209. I do have a question about these that I would need answered before bidding, and that is this: How does Euclid know if these are original pressings? Have they actually broken the seal and looked at them? I was buying jazz records in 1971 and, at best, a record on the shelf in those days, with a factory seal, would have been no better than a blue label,  certainly not a white label. This Monk record is in the $135, so it would be an important question to have answered, don't you think?