Jazz Vinyl on eBay: KD for the $1,000 Bin & 2 More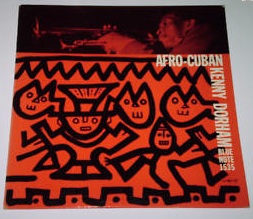 Here's some more jazz vinyl we've been watching on eBay:
Kenny Dorham, Afro-Cuban, Blue Note 1535. This was an original Lexington Avenue pressing with the deep grooves and flat edge. It was in M- condition for the vinyl and VG++ for the cover. It sold for $1,727.
Here's one we've never seen before: Freddie Redd, Session in Stockholm, Nixja Records NJL 14. This one looked to be in VG+ condition for the record and VG++ for the cover. It sold for $531. I always find it thrilling that I've been collecting jazz records for more than 40 years and I still come across records I've never seen nor heard of. I bet this is a great one, too.
We don't usually track records that sell for $22, but we were watching this one because it's symbolic of something: A great record, great cover, great label, great condition, but no real interest from a collectible standpoint, at least not anymore:
The Lionel Hampton, Art Tatum, Buddy Rich Trio, Clef 727. This was in M- condition for the record and the cover and it sold for $21.99. For some reason it seems a shame that a record like this doesn't draw more interest, but I guess these artists just don't grab anyone's interest anymore. Perhaps if the record were on Blue Note instead?