Jazz Vinyl on eBay: Lee, Jutta, Dex, Rouse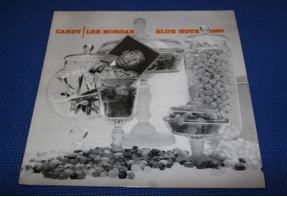 It is the Memorial Day weekend here in the States and I am off to the city of Providence this morning for my son's graduation from grad school at Brown University. Perhaps I will sneak in a chance to visit Steve at Round Again Records, where there are always a few gems stashed away on the shelves. In the meantime, I have taken a few moments to peruse eBay and find some interesting items for us all to watch this weekend.
If you've been watching eBay the past few days, you've probably seen the extremely nice group of records by the seller roverd-90, including: Lee Morgan, Candy, Blue Note 1590. This is an original pressing and it looks to be in quite pristine, near mint condition. The current price is nearly $800 and we would expect this to sell for more than $2,000 and perhaps even more than $3,000. From the same seller is this:
Hutta Hipp at the Hickory House Volume 1, Blue Note 1515. This is an original flat-edge Lexington Avenue pressing. The vinyl is M- and the cover is VG+. The current price is about $163, but it won't stay in that range for very long.
Not sure why, but I always like the Jazzland label. Perhaps it was because my father was always looking for bargains and Jazzland tended to be in the bargain bins. Anyway, they usually sell for reasonable prices and we have our eye on this one: Charles Rouse, Takin' Care of Business, Jazzland 19. This is an original orange label pressing and is being offered by Euclid Records. The record and cover are in M- condition. It is currently less than $70 and may not sell for much more than that.
Finally, there is this frequent denizen of the $1,000 bin: Dexter Gordon, Dexter Blows Hot and Cool, Dootone 207. This is an original red vinyl pressing. The record is listed as VG++ an the cover is VG+. The current price is about $400 and it has not yet met the seller's reserve.