Jazz Vinyl on eBay: Some Blue Notes & A Nice Norgran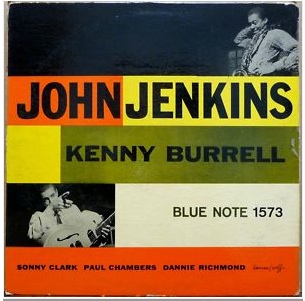 I logged onto eBay last night, found a number of interesting records to watch and, with great pride, was able to go to sleep without slipping into the temptation of placing any snipe bids. Progress, right? Anyway, here is some of the jazz vinyl we were watching that closed yesterday:
John Jenkins, welcome to the $1,000 bin: John Jenkins and Kenny Burrell, Blue Note 1573. This was an original deep groove West 63rd Street pressing and it was in M- condition for the record and VG for the cover. It was a reputable seller, there were 11 bids and more than 450 page views and the price was $1,136.55. Not bad in a soft market if, indeed, this can be called a soft market.
Actually, perhaps in retrospect I should have put in a snipe for this one: Sonny Red, Out of the Blue, Blue Note 4034. This was an original pressing in VG+ condition for both the record and the cover. Quite a fair price, depending, of course, on what VG+ means to the buyer and seller. As we've learned long ago, VG+ is in the eye of the beholder. I had this record once upon a time but traded it away in a lopsided trade that favored the other guy. Not sure what I was thinking at the time, but I'm more knowledgeable now. So this is one that got away. Getting it back for $283 or so, which is what this one sold for, would be quite a coup in my eyes.
I've always had an affinity for this great David Stone Martin cover: Lester Young, The President Plays with the Oscar Peterson Trio, Norgran 1054. This was an original yellow label pressing and the record was M-, the cover was probably M- and the price was $242.50. It's nice to see some of the Norgrans holding up in value. I'm a fan.
Here's one that did not sell: George Wallington Showcase, Blue Note 5045. This was an original 10-inch pressing and it was listed in M- condition for both the record and the cover. It features some nice players: Frank Foster and Dave Burns, plus Kenny Clarke and Oscar Pettiford in the rhythm section. This one got a top bid of $203.75, but did not meet the seller's reserve price. Our top price for this in the Jazz Collector's Price Guide is $300, so it wasn't that far off, but I can see where the seller would have wanted more for an original Blue Note in M- condition.