Jazz Vinyl To Check Out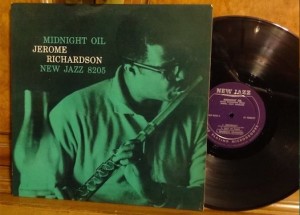 Back on eBay and, of course, there is much jazz vinyl of interest, starting with: Jerome Richardson, Midnight Oil, New Jazz 8205. This looks to be an original purple label pressing. The record is listed in M- condition and the cover is Ex+, which I imagine is close to M-. The bidding is in the $130 range with three hours to go and it has yet to reach the seller's reserve price. I would think this would get a bid of at least $200, being quite a rare record on quite a collectible label, so we'll keep an eye and see if this sells.
This one is from the same seller and has also not yet met the reserve price: Horace Parlan, Headin' South, Blue Note 4062. This looks to be an early pressing, but is it an original? I'm not seeing deep grooves in the picture or on the listing, but this is one of those that was issued right at the borderline of whether Blue Note pressings still have deep grooves. I'm sure someone the question will be answered in the comments. The record is listed at M- for the vinyl and Ex for the cover. The bidding is currently in the $190 range with less than three hours to go.
Stanley Turrentine, Look Out!, Blue Note 4039. This looks to be an original West 63rd Street pressing with the deep grooves, et al, and is currently priced at about $235 with less than 12 hours to go.
Here's one I've never seen or heard of: Hal Stein and Warren Fitzgerald, Progressive 1002. This looks to be an original promo pressing in VG condition for the cover and Ex for the record. This is from a seller in Japan and has a start price of about $500 with no bids as of yet. The auction also closes later today. I did a quick Google search on each player, but perhaps someone out there from the Bay Area can fill us in with more details?