Jazz Vinyl To Watch: Parlan, Dex, Mobley, Burrell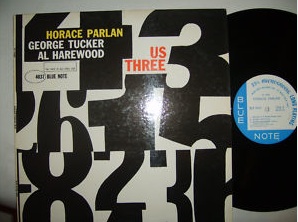 Lots of interesting jazz vinyl to watch on eBay.
Here's one that will soon enter the $1,000 bin: Horace Parlan, Us Three, Blue Note 4037. This is listed in M- condition for both the record and the cover and it is described as an original pressing, although a close-up of the labels always helps. There are a couple of days left on the bidding for this one and the price is already at $1,000. The same seller his this one: Hank Mobley and Lee Morgan, Peckin' Time, Blue Note 1574. This one is also listed as an original pressing. The record is in M- condition and the cover looks to be about VG+. The price is currently at $850.
Dexter Gordon, Daddy Plays the Horn, Bethlehem 36. This is an original deep groove mono pressing with the red label.  The record and the cover are both listed in VG++ condition. The price is already more than $300. The same seller has this one: Hank Mobley Quintet, Blue Note 1550. This is an original pressing. It's only in VG+ condition for both the record and the cover, but it is already bid up to more than $500.
Here's another Andy Warhol cover:
Kenny Burrell, Blue Note 1543. This looks to be an original pressing with the ear, deep groove and Lexington Avenue address, the last of the Lexes. The seller has a strange grading system, so it's hard to characterize this one in the terms we normally use. If I were thinking about bidding on this record I would bid as if the the record was VG — there is a scratch — and the cover as perhaps VG+. This is now at nearly $200 with nearly four days to go.